August 2018
Welcome to the second CIC newsletter of 2018!
Welcome! In this issue, learn more about…
The open source release of our Writing Analytics infrastructure

The training sessions we're running for academic and support staff


How we co-design analytics with students and academics

Updates on our different learning analytics platforms

How we're integrating and analysing student experience data

The latest changes in the CIC team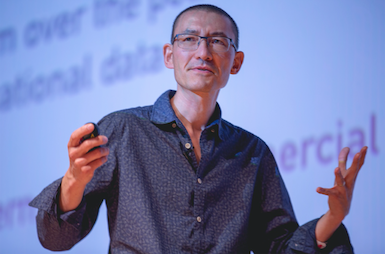 CIC's work was showcased at the London Festival of Learning [more]
Browse our latest research publications for the theoretical, methodological, empirical and technical details of our work.


We look forward to hearing your thoughts on how CIC can help you: cic@uts.edu.au


Simon Buckingham Shum
Director, Connected Intelligence Centre
Professor of Learning Informatics
VC's Learning & Teaching Award
The Vice-Chancellor has presented CIC's MDSI team with a High Commendation for "Developing Data Science as a Team Sport: learning.futures in Practice". CIC designed and launched the transdisciplinary Master of Data Science & Innovation 2015-17.
T

he SEA Project is integrating all that we know about the UTS student experience. Starting with all the student surveys, SEA has already delivered new insights. The SEA dataset enables us to answer

faculty queries about student progress, and we're developing new tools to analyse student ratings and comments.
Roberto Martinez-Maldonado
"Classroom Translucence" is an exciting new concept for bringing automated, formative feedback into UTS collaborative learning spaces. Roberto Martinez-Maldonado introduced this to UTS colleagues, demo'ing dynamic visualisations from sensors tracking classroom movement.
The quality and quantity of data traces generated from student activities are growing at an astonishing pace, but this is useless if educators can't take appropriate, timely action to support students. The OnTask platform supports personalised feedback at scale, and is now being piloted.
Integrating an AI writing aid into student activities
How do we teach academics to integrate an automated writing feedback tool into their teaching? CIC's doctoral researchers Sophie Abel & Shibani Antonette ran a training session, demonstrating the AcaWriter tool, and different learning activities that make use of it with both undergraduates and PhD students.
Learning Journeys Platform for assessing learning dispositions
How do we cultivate, and assess, the learning dispositions needed to thrive in the Fourth Industrial Revolution. Led by Prof. Ruth Crick, CIC hosted a 2 day workshop to share examples of CLARA dispositional learning analytics in action at UTS, and with our partners, and to introduce the new Learning Journeys Platform.
CIC's AcaWriter tool is now being tested for a new genre of writing – business reports written by accounting students. AcaWriter was tuned to the key requirements for a writing assignment, to give context-specific feedback on drafts, provoking an exciting level of positive feedback from the students.
Giving stakeholders a voice in shaping analytics
AI and analytics are complex technologies – so how do we build trust in them? Doctoral researcher Carlos Prieto-Alvarez is adapting co-design techniques to give academics and students a voice in shaping next generation tools.
What does Facebook know about you?
One of CIC's priorities is building data literacy. Have you ever wondered what Facebook knows about you? If you haven't, you should. Improve your data and digital literacy, as well as your critical thinking skills, by heading to UTS Open now for this topical, open access module, developed by CIC's Kirsty Kitto and TDI's Simon Knight.
Journey Through Data
Continuing the Data Literacy theme, this new module on UTSOpen provides a gentle, but deeper dive into working with data. Designed for anyone with the curiosity and desire to build their confidence with numbers and data.
AcaWriter featured in iTnews
"UTS creates natural language tool to improve students' writing." Coverage in

iTnews of the development and use of AcaWriter.
Dr Kirsty Kitto from CIC has been invited to present a keynote session

on using xAPI in Learning Analytics at the

e-Learning Korea 2018

International Conference and Edtech Fair

which will be held in Seoul, Republic of Korea on the dates of September 13-15.
Interpreting and communicating data insights is increasingly relevant to all industries. Yet, finding the

story

behind the data and communicating it effectively, is more than crunching numbers.

How can we tell a story based on data? Find out how with

Dr Roberto Martinez-Maldonado at this seminar.
CIC bid farewell to our latest Australian Endeavour Scholar,
Rianne Conijn,
after a 4 month stint in CIC, sharing her doctoral work and learning about learning analytics from the team.
Welcome to Ming Liu!
Dr. Ming Liu joined CIC as a Research Fellow in Text Analytics. His interests are Human Language Technologies in writing, reading engagement and collaboration. His research findings have appeared in IEEE Transactions on Learning Technologies, Journal of Internet & Higher Education, Educational Technology & Society, Intelligent Tutoring System, other respected educational technology journals & conferences.