The showcase was a celebration for work done by 2017 UTS Vice Chancellor's Learning and Teaching Award and Citation recipients.
This event celebrates the many ways teaching and professional staff at UTS are creating the best possible learning experiences and learning outcomes for our students. It showcases projects that some of these recipients have worked on, such as 'Developing scientists for the modern laboratory' and 'The Justice Brennan Project: Empowering students as change-agents'. See the full list of award and citation recipients from across a number of faculties here at UTS.
The Connected Intelligence Centre is proud to congratulate our team members recognised with a High Commendation for "Developing Data Science as a Team Sport: learning.futures in Practice"
Their submission documented the innovative design of the Master of Data Science & Innovation (MDSI), launched in 2015, and its impact up to 2017
Professor Simon Buckingham Shum (CIC Director)
Gabrielle Gardiner (CIC Senior Manager) 
Associate Professor Theresa Anderson (MDSI Course Director)
Dr. Kailash Awati (CIC Seniour Lecturer)
Dr. Simon Knight (CIC Lecturer)
Dr. Roberto Martinez-Maldonado (CIC Research Fellow)
Dr. Amela Peric (CIC Lecturer)
Dr. Nicola Parker (IML Lecturer and CIC Learning Designer)
Georgia Markakis (CIC Courses Manager)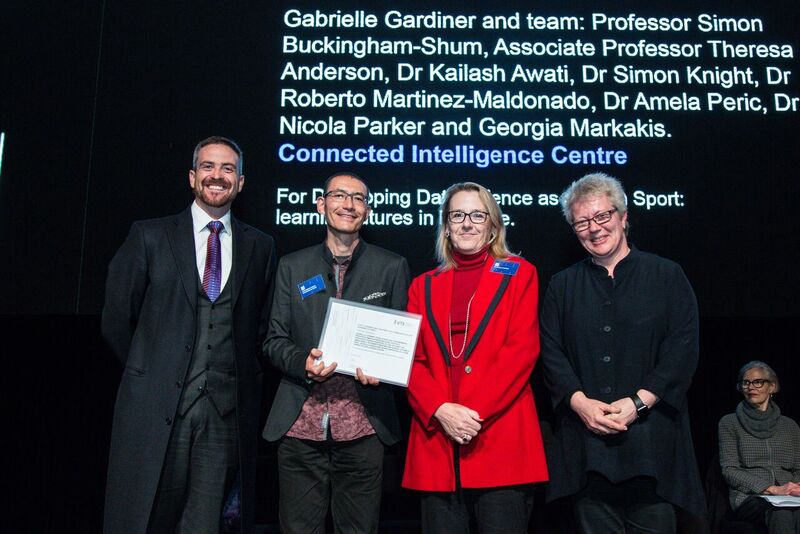 We wish the team well as they take the MDSI forward, now based in the new Faculty of Transdisciplinary Innovation.
To catch up with MDSI events and our students' fantastic accomplishments, browse CIC's MDSI news archive and follow @UTS_MDSI & #UTSMDSI on twitter.