Apologies for resending this – the story links should work in this version!
September 2019
Welcome to the CIC newsletter!

As the UTS 2027 strategy hits its stride, CIC is at the heart of this. We invent, deploy and validate learning tools that use AI/analytics to provide personalised feedback to students, as well as provide data analyses for diverse groups across UTS covering educators, researchers and professional units.


Just a few of the stories in this issue…

How data science helps UTS make evidence-based decisions supporting students with their academic English.
How it's possible for the Business School to send a personalised feedback message to every student in a 1000+ cohort… every week!
The new challenges that lifelong, life-wide learning raises for universities' data infrastructures
How CIC has been supporting UTS social justice work, with Law Faculty research into legislation impacting women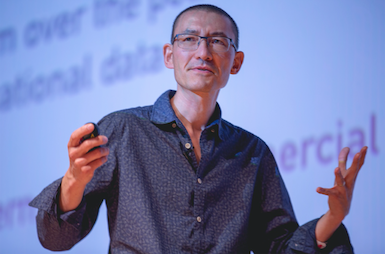 How human-centred design can shape the way analytics and AI are used in education

The Masters and PhD students currently in CIC
Sad farewells, and warm welcomes to the team that powers everything we do!

Browse CIC's latest publications for the theoretical, methodological, empirical and technical details behind these stories.



We look forward to hearing your thoughts on how CIC can help you: cic@uts.edu.au



Simon Buckingham Shum
Director, Connected Intelligence Centre
Professor of Learning Informatics
Bringing data science to UTS data challenges
Data science to support UTS students' English language development
UTS has a strong commitment to ensuring that academic English is at an acceptable standard for all students across all disciplines.
Harnessing Data Science to Protect Women's Rights
When a woman is leading the country, do they pass more pro-women laws? Can we say that one country has a better law for women than another, when it comes to domestic violence, tax or some other piece of legislation? CIC Data Scientist Mike Pracy, has invented a new way to assess legislative bias against women.
Next Gen Data Scientists
CIC is passionate about supporting the next generation of data scientists and we currently have 5 interns from the Master of Data Science and Innovation working on various projects.
Breaking new ground with Learning Analytics
Piloting personalised feedback at scale with OnTask
Improving feedback to students is a strategic priority at UTS, and tools like OnTask show what this looks like…
CIC showcases at EduTECH Australia
CIC's work in educational AI/Analytics was on the big stage at EduTECH Australia, the southern hemisphere's biggest ed-tech convention. Replay the talk and his interview on AI in Education
Two members of CIC have just co-edited a journal issue on human-centred ways to design Learning Analytics tools – it's a fascinating read!
Connecting the dots between LA infrastructure, ethics and lifelong learning
As UTS moves towards its 2027 aspirations to achieve lifelong personalised learning, we need to connect the dots...
Can a computer be trained to recognise a reflective pharmacy student?
CIC has broken new ground by training a machine learning algorithm to distinguish between good and poor reflective writing by pharmacy students. How is this possible?
CIC co-chairs Collaboration Analytics workshop

Collaboration Analytics generate insights into how people learn/work together, online and face-to-face. CIC is a world leader in this mix of multi-modal sensors, AI and visualization, and recently brought together top researchers in the field.
Doctoral Researchers launch their projects
Here is a sneak peek of what they'll be inventing:

Leading Japanese Learning Analytics researchers visit
CIC caught up with the latest developments in Japan, when Professors Hiroaki Ogata & Atsushi Shimada visited from two of their leading centres.
Sasha Gromov wins first place in the Cloud Track at Huawei ICT Competition
The Huawei ICT Competition 2019 Australia is an annual event aimed at developing the professional skills of students around the world. Students can choose the Networking Track
Last week we said goodbye to Ratha Ang, our Administrative Assistant. She

has been part of CIC's professional team since 2017.
CIC Research Fellow
Roberto Martinez-
Maldonado
was our first postdoctoral researcher, appointed in 2015!
Welcome Andrey!
We are delighted to announce that Andrey Inkin has joined CIC as a Full Stack Developer. Andrey grew up in Russia and has a keen interest in the Information Technology industry.
Welcome Mahesh!
We are delighted to announce that

Mahesh Jeshani has joined CIC as a UX/Front End Developer. Mahesh is particularly interested in the adoption of digital transformations and EdTech.
Welcome Muna!
CIC warmly welcomes Muna Musarrat who recently came on board the team. Muna is a Postdoctoral Research Associate at CIC, with a keen focus on the U@Uni Academy project.
Welcome Aida!
We are delighted to announce that Aida Haile has joined CIC as an Administrative Assistant. Aida is interested in the application of data science to learning and business models.