When a woman is leading the country, do they pass more pro-women laws? Can we say that one country has a better law for women than another, when it comes to domestic violence, tax or some other piece of legislation? Until now, there was no way to answer such questions in a rigorous way. But Ramona Vijeyarasa (UTS Chancellor's Post-Doctoral Research Fellow in the Faculty of Law) found that CIC could help, and working with CIC Data Scientist Mike Pracy, has invented a new way to assess legislative bias against women.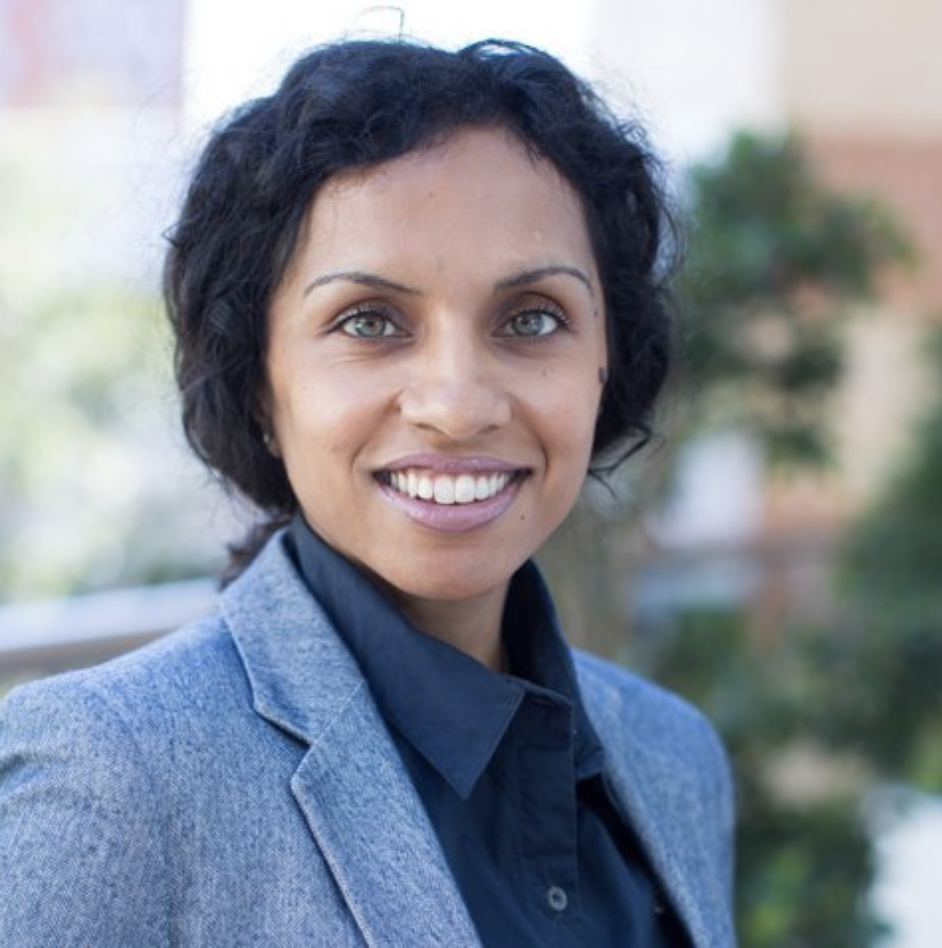 Dr Ramona Vijeyarasa is developing the Gender Legislative Index (GLI), a tool to improve accountability for upholding women's rights in domestic legislation. An index of this kind does not exist globally and it has the potential to be an innovative tool to enhance human rights accountability by countries for their laws.
There are three pillars to the GLI: First, it uses a common set of assessment questions grounded in international women's rights law to form the basis of each evaluation. Second, there are common benchmarks grounded in global and regional laws and policies,  to facilitate a more objective assessment of each law, whether a tax law or a health law or a family law issue. Third, the GLI scores legislation assigning an overall band for each law, and it's this which facilitates comparative analysis and ranking of laws and countries.
How is an assessment reached? First, each law is evaluated by multiple evaluators against the above criteria. But given all this data, how can it be presented to users in a useful form? Ramona called on CIC's Director, Professor Simon Buckingham Shum, who recognised immediately the nature of the problem she was facing, and introduced her to CIC's Data Scientist, Dr Mike Pracy. Working closely with Ramona, Mike designed visualisations to present colour heat maps showing at a glance how each evaluator assessed each law. Next, he designed the algorithm to calculate an overall rank for each law. (For those curious, this was a purpose-built algorithm based on a decision-tree, using machine learning to figure out which features of a law were best at predicting how experts decided which band it was in.) Finally, the heatmap and banding algorithm were added to the GLI website developed by UTS Rapido Social, the third partner in the project delivering the public-facing tool.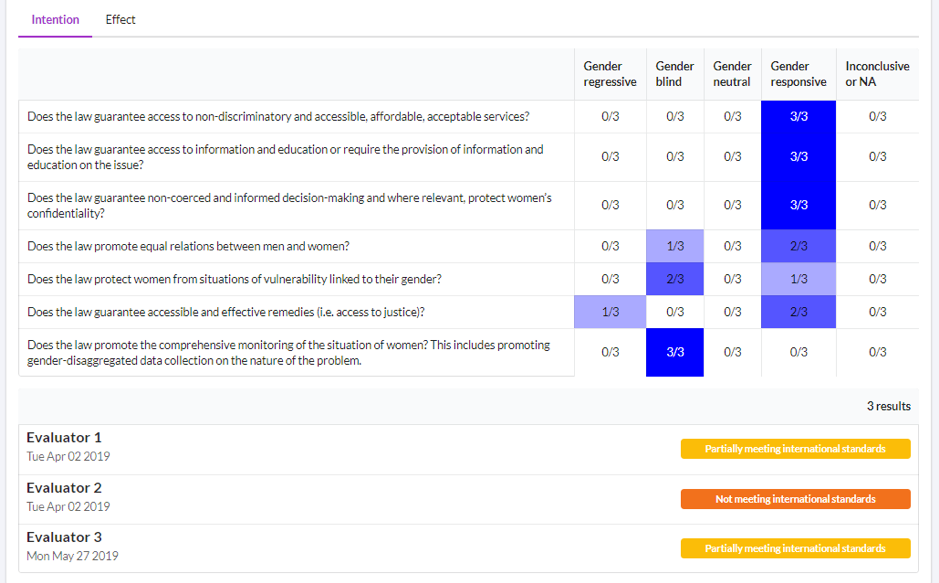 A GLI heatmap showing at a glance the spread of assessments that evaluators have given a law.
This is a breakthrough. While there are global indices that present data in different ways – from indices that rank and score like the Corruptions Perception Index, to indices that give scorecards or charts for different countries like the Social Institutions and Gender Index — the GLI does both. It presents a meaningful aggregation of the different parts of each law's evaluation, but also give users an overall score to facilitate comparisons across laws and countries.
This project is a great example of how subject matter expertise combined with data science can make new advances. We asked Ramona to sum up her experience of working with CIC:
The Gender Legislative Index generated various layers of data, all of which may be relevant to different users, depending on whether they are NGO activists or legislative drafters or government aid agencies. I needed to process the data in a way that could give users a quick snapshot but without losing the richness underneath. CIC's ideas around data visualisation and the algorithm were the ideal solution.
Having proven the concept, Dr Vijeyarasa continues to lead this exciting work, and CIC plans to keep supporting this important research to help transform society by advancing gender equality.