We are delighted to announce that Aida Haile has joined CIC as an Administrative Assistant…Welcome!
I was born in Adelaide, Au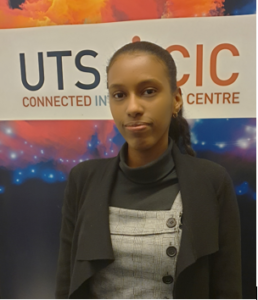 stralia but grew up in Sydney. Currently, I am studying a Master of Science majoring in Mathematical and Statistical Modelling at the University of Technology Sydney. During my undergraduate degree I was fascinated with the world of Data Science and decided I wanted to pursue a career that is not only challenging but also fulfilling. That is a key reason why I wanted to work at CIC. The combination of data, ideas and people will allow me to utilise my skills as well as learn new concepts and techniques from my peers and colleagues. As a newly appointed team member I am able to assist the professional team with both secretarial and administrative related tasks.
Feel free to contact me at: Aida.Haile@uts.edu.au