New evidence of students' responses to receiving automated formative feedback on their reflective writing is now available. In a forthcoming paper from CIC's long-term collaboration with Cherie Lucas (School of Pharmacy, Graduate School of Health), the team reports that students who engaged with CIC's AcaWriter tool reported a range of benefits. Full-size colour figures not in the paper are also provided below.
Cherie Lucas, Simon Buckingham Shum, Ming Liu & Mary Bebawy (In Press). Implementing AcaWriter as a novel strategy to support pharmacy students' reflective practice in scientific research. American Journal of Pharmaceutical Education.
ABSTRACT:
Objective. To explore pharmacy students' perceptions of the implementation of a novel web application tool (AcaWriter) into pharmacy curriculum to support reflective thinking in scientific research.
Methods. Qualitative research design involving a 50-minute focus group (n=12), audio-taped, transcribed verbatim and thematically analyzed using the Braun and Clarke framework.
Results. Thematic analysis generated 4 themes related to AcaWriter's utility, applicable for enhancing students' research thinking and capacity. Themes included: (i) ease of use to prompt reflection, tangible tool with non-judgmental capacity; (ii) benefits for enhancing self and peer reflection on research techniques and group dynamics; (iii) benefits of the reflective writing process to enhance research capacity compared with engaging in reflective dialogue; and (iv) benefits beyond the writing process: cultivating self-improvement and self-confidence.
Conclusion. The findings of this study show that a novel web application implemented within a pharmacy curriculum can assist students' self and peer reflection on a research task. Further research is required to explore the impact of utilizing this open source tool and its relationship with research academic performance and outcomes.
COLOUR FIGURES:
FIGURE 1: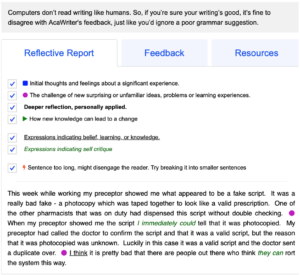 FIGURE 2: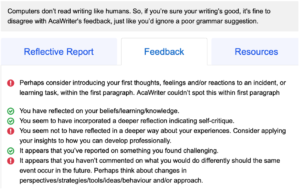 FIGURE 3: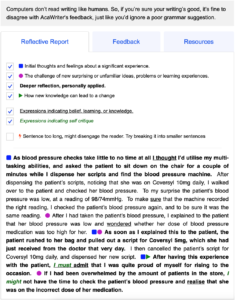 FIGURE 4: