"Seeing between the lines": ideation and thinking visually for learning and teaching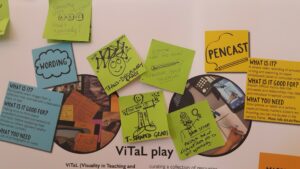 As part of a 2015 Deputy Vice Chancellor's Learning & Teaching Grant, CIC has been heavily involved in the creation of a learning community exploring ways ideation (processes for generating ideas) and visual techniques can support the design and delivery of teaching material and help students effectively think through and communicate their work. This project builds on the research and teaching expertise of its core members in relation to visual ideation, creativity and mobile technologies. CIC members of the team (Theresa Anderson and Kelly Tall) were very busy at the recent UTS Learning & Teaching Forum, which saw the launch of the community under ViTaL (Visuality in Teaching and Learning) banner.  The core team presented an interactive poster (pictured left) and moderated a series of activities at the Forum to encourage academics to think visually. ViTaL work involves creating learning resources to help teachers employ more visual approaches in their curriculum. By establishing a learning community with both online and personal support for teacher initiatives, the community aims to disseminate ideas and techniques that can simplify the communication of complex ideas and enhance critical understandings.
You follow ViTaL activities on Twitter via #utsvital and also follow  ViTaL on Pinterest .