Last week, UTS: CIC welcomed new Endeavour Research Fellow Bikalpa Neupane to its Blackfriars research hub in Chippendale, Sydney.  Bikalpa will be working  with colleagues on a peer assessment of Massive Open Online Courses (MOOCs) for the next five months at UTS. We sat down with Bikalpa to learn about his story and his current research work.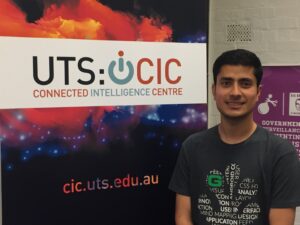 Tell us a bit about your background – where did you grow up and go to school?
My name's Bikalpa Neupane, but I usually go by 'Bik'. I was born in Southern Nepal, and raised in Kathmandu, the capital of Nepal. I completed middle school at Siddhartha Vanasthali Institute, and my high school degree was from Saint Xavier's College, Maitighar, Nepal. During those years, more than half of the graduates from my high school chose to continue their studies abroad. I followed the trend, and applied to a bunch of US based schools. Fortunately, I got admission to Brigham Young University, Provo, Utah, USA with very generous funding.  At BYU, I graduated Magna Cum Laude with a BSc in Information Technology (hosted at Ira A Fulton College of Engineering and Technology) and double minors in mathematics and computer science. I found a home at BYU and since then, I've been fortunate enough to get multiple internships at top tier multinational companies and investment banks on Wall Street. I decided to start my career as a Service Engineer with Operating Systems Group at Microsoft Corporation headquarter, Redmond, USA where I helped design, develop, and deploy large scale IT services such as Microsoft address book. Later, I moved to Utah to work for an e-commerce company -Overstock.com -in a Software Release Manager capacity where I was involved in coordinating about 14 development teams for bi-weekly release of production codes to a website that generates USD 1-1.5 billion revenue per year. It was great experience, but I'd always wanted to go to graduate school, so while I was at Overstock, I applied to graduate schools in the hope that I could become an accomplished researcher someday. Today, I am a PhD candidate at the College of Information Sciences and Technology at Pennsylvania State University, UP, USA. 
When did you first become interested in Information Technology and data science?
I guess my first real affinity towards Information Technology arose when I got an on-campus part time job as a Data Centre Analyst at Network Operations Centre at Brigham Young University. I was able to get first-hand experience using the latest tools in IT service management, IT networking, databases, and troubleshooting problems that I'd previously had no idea about. What is really interesting about IT is that you don't always have a definitive answer to problems. That's interesting because it forces you to think beyond, to find creative solutions, to make things, or even to break things. 
At a more personal level, I like the applied portion of technologies. While I enjoy working on mathematical proofs and reading social theories, I really like building and testing things. In particular, I am interested in developing or studying technologies that produce social consequence. I am very motivated to use my skills in producing things that help improve the lives of people in the areas of education, health, and access.
As an example, following the catastrophic earthquake in Nepal in April 2015, I developed a website called onestopportal.org to consolidate the vast amounts of information circulating online following the disaster. It was designed as a hub for earthquake information and it helped to create an archive of data which will hopefully improve disaster responses in the future.
Last year, I helped organise Nepal's first interdisciplinary hackathon event, HackClash Nepal 2016, where students at all levels (mostly post high school) across all disciplines came together to brainstorm and develop a software prototype to solve some of the societal and developmental problems confronting Nepal today. 
I'm also currently leading the establishment of Nepal's first HCI research Institute, HCIIN (Human Computer Interaction Institute of Nepal). We're looking for partners and collaborators interested in areas of HCI, ICTD, and Data Science in areas of education, health, access, and crisis, in Nepal or abroad. Recently we held a brown bag talk on HCI hosted at the Microsoft Innovation Center Nepal, with officials from several NGOs, IGOs, and representatives from the United Stated Embassy in attendance.
What are your general research interests?
In general, my research interests are in areas of Human Computer Interaction (HCI), Large Scale Distributed Systems, Learning Analytics, and Information Communication Technologies for Development (ICTD). During this period, I will be working on the challenge of designing small group online learning at Massive Open Online Courses (MOOCs), involving the combined use of peer-peer student assessment with text analytics. The overall goal of this work is to provide scale-able feedback and reduce teacher's intervention in MOOCs. 
What role have you taken on here at UTS?
I will be spending 5 months with CIC at UTS working on a small peer assessment of Massive Open Online Courses (MOOCs). I am a recipient of the Australian Endeavour Research Fellowship sponsored by the Department of Education and Training, Australia.
What are your first impressions of Sydney and UTS?
It's fantastic! It feels like a good mix of Europe and the United States. Somehow it reminds me of Seattle – probably due to last week's gloomy and rainy days! UTS is great – it seems like there are good resources for researchers here. I'm looking forward to discovering more about UTS in the coming days and weeks.
I'd like to thank Dr Simon Buckingham Shum and Dr Simon Knight for generously hosting me here at CIC.  Thanks to the entire CIC team for welcoming me into the space.
If you're interested to learn more about Bikalpa's research and collaborative work, you can reach him at bikalpaneupane@outlook.com