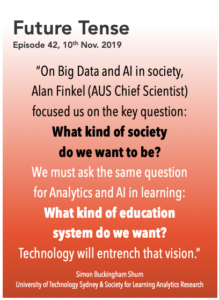 Post Ed Snowden, Cambridge Analytica, and myriad other widely covered data privacy breaches and examples of biased machine learning, citizens are rightly concerned about whether this emerging infrastructure will be used for good or ill. While education is a social good, it cannot of course, remain remote from this debate.
CIC builds data-powered infrastructure, so this is core business for us. We're engaged locally, nationally and internationally, engaging audiences ranging from curious citizens, to UTS staff, leaders/teachers in schools/universities more widely, to government, workers advocacy groups and academic researchers.
Simon Buckingham Shum introduced the university to the place of AI in UTS teaching, and was featured in an edition of ABC's Future Tense dedicated to AI, Ethics and Education.
Kirsty Kitto, Simon, and former CIC-er Simon Knight worked with School of Education colleague Jane Hunter, to contribute the education case study to the UTS submission to the Australian Human Rights Commission, also producing a white paper on the Ethics of Learning Analytics to provoke debate in Australian universities, and an associated symposium co-led by Kirsty at the Australasian Ed-Tech ASCILITE 2019 conference.
The NSW Department of Education has been convening a range of forums on the future of education, and the role of AI, under their Education for a Changing World initiative. Antonette Shibani and Simon Buckingham Shum were invited to the inaugural forum on the role of AI in education, where ethical considerations were paramount in discussions.
On the academic front, Simon co-edited three volumes on human-centred approaches to designing Learning Analytics, including a 50th Anniversary Special Issue of the British Journal of Educational Technology, entitled Learning Analytics & AI: Politics, Pedagogy & Practices. He also published an in-depth webinar on algorithmic transparency in education, for those wanting more detail, while Kirsty Kitto and Simon Knight consider practical ethics for building learning analytics