Date: Monday, 13th February 2017
Time: 03:30 PM
Location: CIC Ideation Studio, Building 22, Blackfriars Campus


On Monday 13 February from 3.30 – 5pm, we welcomed guest speaker Mykola Pechenizkiy who talked about the Predictive Analytics on Evolving Data Streams.
Click here to view Mykola's presentation slides.
Abstract


Ever increasing volumes of sensor readings, transactional records, web data and event logs call for next generation of big data mining technology providing effective and efficient tools for making use of the streaming data. Predictive analytics on data streams is actively used in a variety of real-world applications that in turn put in the spotlight several important challenges to be addressed. In this talk I will focus on the challenges of dealing with evolving data streams, i.e. the application settings when modeled concepts may change over time. I will overview the current state-of-the-art and highlight some of the recent developments in the proactive handling of such changes.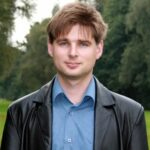 Mykola Pechenizkiy Biography
Mykola is Full Professor, Chair Data Mining at the Department of Computer Science, Eindhoven University of Technology (TU/e), the Netherlands and Adjunct Professor in Data Mining for Industrial Applications at the University of Jyvaskyla, Finland. His expertise and research interests are in predictive analytics and knowledge discovery from evolving data, and in their application to real-world problems in industry, commerce, medicine and education. He develops generic frameworks and effective approaches for designing adaptive, context-aware predictive analytics systems. He has actively collaborated on this with industry. He has co-authored over 100 peer-reviewed publications and co-organized several workshops, conferences, special issues, and tutorials in these areas. He has co-edited the first Handbook of Educational Data Mining; serves as the President of IEDMS, the International Educational Data Mining Society. As a panelist and an invited speaker he has been advocating for the responsible data science and ethics-aware predictive analytics research at several events, including the FATML@ICML 2015 and NSF IRB Privacy and Big Data workshops and the EDM 2015 conference.
Click here for more information on Mykola Pechenizkiy.