We need new ways to describe students' readiness for university. Joining an exciting initiative led by the UTS Centre for Social Justice & Inclusion, CIC has helped hundreds of high school students from some of the toughest economic areas in Sydney, who are now about to start at UTS.

The U@Uni Academy is a pioneering initiative led by the UTS Centre for Social Justice & Inclusion, to expand the pathways into a UTS education. U@Uni Academy is an alternate, non-ATAR entry pathway to study at UTS, exclusive to our U@Uni partner schools. It is offered free of charge. The program runs for two years, starting at the end of Year 10. It provides a select cohort of students with university experiences, academic support, and opportunities to develop key capabilities that will give them an edge in university study and beyond.
Over the program, students take part in a variety of on-campus experiences and in-school mentoring and tutoring. These experiences will provide industry connections, enhance HSC studies, and help develop skills in areas like communication, critical thinking and innovation. Upon successfully completing the program, participants receive an offer into a UTS undergraduate course.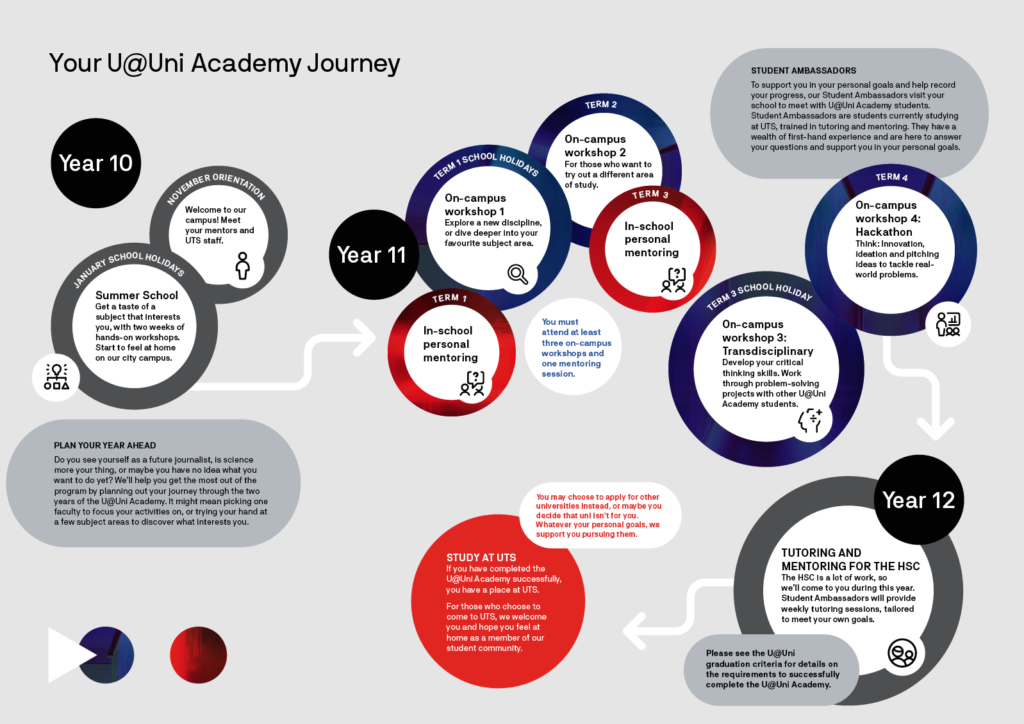 In 2019, working closely with Dr. Darrall Thompson, CIC adapted his ReView assessment design and tracking platform to the needs of U@Uni Academy, and helped academics refine the engaging curriculum they had designed, to assist the tracking of transferable competencies through to high school graduation. The image below illustrates the Learning Analytics reporting that this special edition of ReView provided to the teaching team. We think of such visual Learning Analytics as helping these young people "show their true colours".
2 years on, and 229 of those Yr10s we started working with are about to embark on their degrees, attracting 9News coverage.  Social Justice + Rigorous Pedagogy + Committed Staff + Students + Learning Analytics make a fine mix!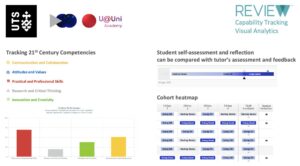 The ground-breaking nature of this work is recognised in this journal paper documenting the rationale and evaluation of the initiative:
…and in the subsequent showcase slot given to UTS in the global Fusion Cities 2021 conference on the skills students need to succeed and flourish now, and into the future [UTS program + resources]:
Supporting CSJI's Verity Firth, Sonal Singh and Sarah Ellis were CIC's Simon Buckingham Shum (Director) and Muna Musarrat (Postdoctoral Fellow), working with Darrall Thompson (Centre for Research on Education in a Digital Society) and the Academ ReView team.