Just kicking off, a project funded by Australian OLT, led by Kirsty Kitto and her team at QUT. This builds on earlier work conceiving Social Learning Analytics [1-2] and work by QUT's Mandy Lupton who is developing the concept of teaching+learning in the wild. This has led to the first release of the Connected Learning Analytics (CLA) Toolkit:
"The CLA toolkit helps students and teachers to harvest data about their activities in standard social media environments, and then provide immediate feedback and reports. It is currently in development, but the basic design is sketched out below: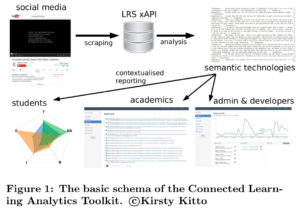 The release of the Experience API (xAPI) makes it possible to capture student behaviour in a highly flexible manner and send it to a Learning Record Store (LRS) for immediate or later analysis. We currently have tools in development that will interface with the API's of
Google+
Twitter
StackExchange
Google Docs
Facebook

More details can be found in this paper:

And if you want to go and check out the source code, then it is available on GitHub.

This project has now been funded by the Australian Government's Office for Learning and Teaching (OLT). The Proposal that we submitted can be found here if you would like more details."
We're excited here at CIC on how we can test this new infrastructure in partnership with UTS educators, and we already have quite a few lining up. Watch this space!
[1] Ferguson, R. and Buckingham Shum, S. (2012). Social Learning Analytics: Five Approaches. In: 2nd International Conference on Learning Analytics & Knowledge, 29 Apr – 02 May 2012, Vancouver, British Columbia, Canada, pp. 23–33. Open Access Eprint: 
http://oro.open.ac.uk/32910
[2] Buckingham Shum, S., & Ferguson, R. (2012). Social Learning Analytics. 
Educational Technology & Society
, 15 (3), 3–26. Open Access Eprint: 
http://www.ifets.info/journals/15_3/2.pdf