All students are used to software keeping an eye on their spelling, grammar and signs of plagiarism. They're also very familiar with the idea that computers can understand complex, everyday speech or writing, as mobile phones and Google adverts are clearly able to interpret such "natural language" (as it is called in computer science). If they have ever tried to learn to speak or write a foreign language, they may well have used online tools to get instant feedback and coaching.
So, on the one hand, it should come as no surprise to students that their university experience will include tools that process their natural language — but on the other hand, this is still relatively rare in schools and universities. As we develop our writing feedback tool in CIC, therefore, it is vital that we test the waters with students, using it in authentic learning tasks.
These are the kinds of 'rhetorical moves' that we can detect in academic writing. The blue moves are illustrated with example phrases in red, which will probably look quite familiar: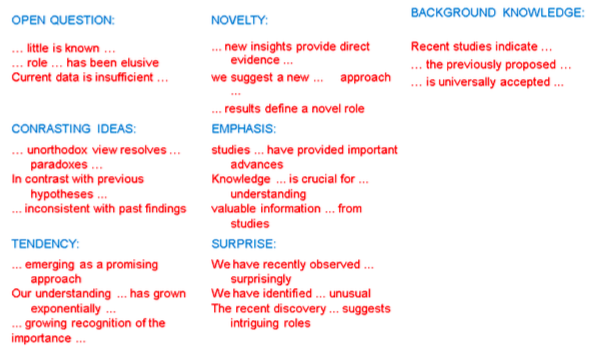 On the AWA website (Academic Writing Analytics) developed in CIC, when a student pastes in their draft writing (or indeed, any text), sentences that appear to make these moves are highlighted. Here are some examples from Civil Law student writing: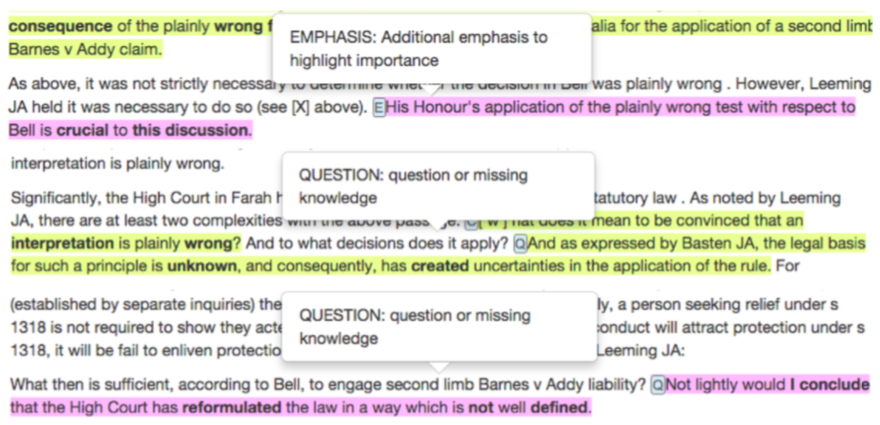 All very well in theory, but what happens when students try this? Here's some of the feedback from Civil Law students about the value they saw after using AWA: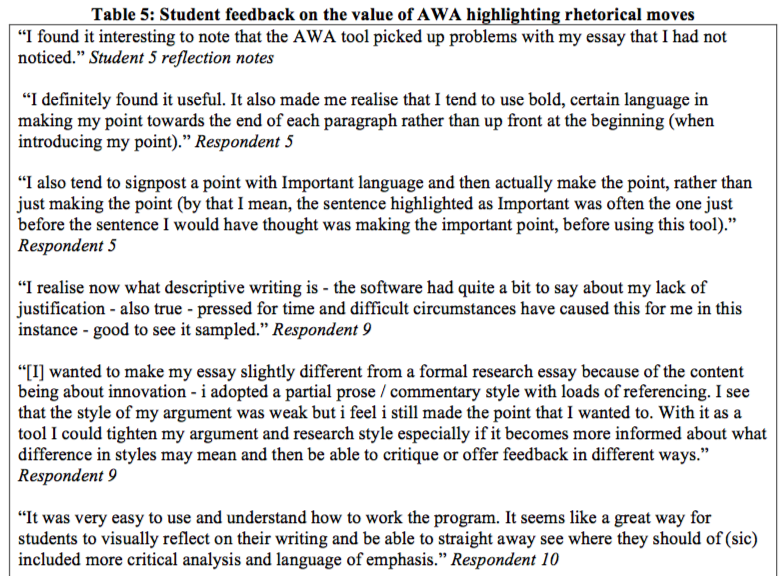 Of course AWA didn't always get it right — language is nuanced and multilayered, and machines cannot always interpret it accurately: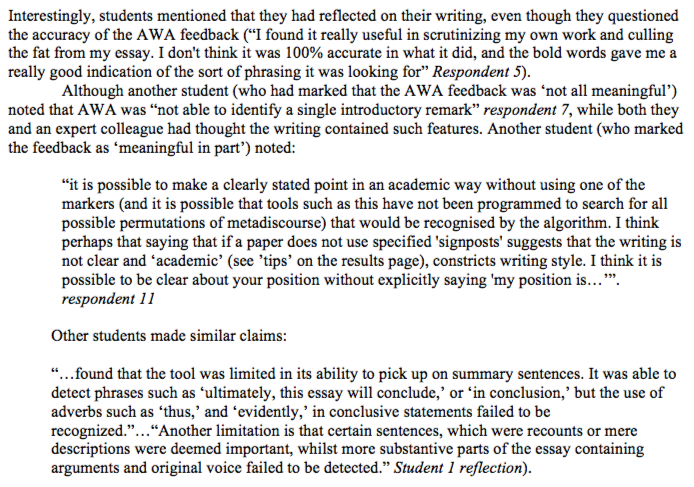 Learn more about this evaluation study in partnership with Philippa Ryan in the Law faculty in an article just published in the International Journal of Artificial Intelligence in Education [1].
AWA has now been renamed AcaWriter, and a new version will be trialled with a new cohort of Civil Law students this semester. This is supported by AWA-Tutor, software developed by CIC PhD student Shibani Antonette (learn more about how it scaffolds student writing exercises [2]).
Watch this space for what we learn from this!
[1] Knight, S., Buckingham Shum, S., Ryan, P., Sándor, Á. and Wang, X. (2018). Designing Academic Writing Analytics for Civil Law Student Self-Assessment.
International Journal of Artificial Intelligence in Education
, 28, (1), 1-28. DOI:
https://doi.org/10.1007/s40593-016-0121-0
(Part of a Special Issue on Multidisciplinary Approaches to AI and Education for Reading and Writing – Parts
1
&
2
. Guest Editors: Rebecca J. Passonneau, Danielle McNamara, Smaranda Muresan, and Dolores Perin) [2] Antonette Shibani, Simon Knight, Simon Buckingham Shum and Philippa Ryan (2017).
Design and Implementation of a Pedagogic Intervention Using Writing Analytics
. In
Proceedings of the 25th International Conference on Computers in Education
. New Zealand: Asia-Pacific Society for Computers in Education