Date: Saturday, 22nd November 2014
Time: 12:00 AM
Location:


Welcome to ALASI 2014!
ALASI 2014 Photo Montage • ALASI 2014 Program • ALASI 2014 Delegate Flashtalks
UPDATE: Don't miss ALASI 2015, Univ. Sydney, 26-27 Nov 2015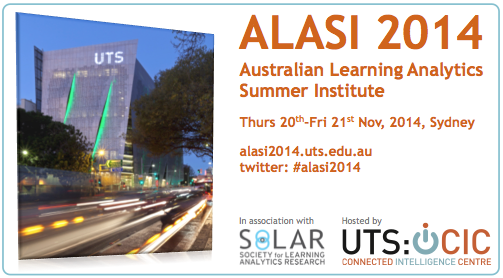 The challenge
Building effective learning analytics capability is now on the radar of most forward-thinking university leaders, who are at various stages in connecting their key people, as well as building capabilities.  Can we put in place strategies that really make a difference to the student experience and the organisation's collective intelligence? How do we most effectively combine 'top-down' senior leadership strategies with 'bottom-up' grassroots innovations?
Forging new kinds of links between traditional organisational silos is not simple technically or organisationally, but exciting when you get the right team together. Placing analytics about students' learning experiences in the hands of the course and program convenors is becoming easier as new reporting and data visualisation tools become more readily available. But, how can learning analytics be used effectively at the course or program level? Can it be connected to assessment? Can it improve assessment? What kind of tools and techniques are out there to fulfil the promise of high impact? Connecting pedagogical intent with the use of data-supported decision-making is not trivial, but at the same time, the potential for sustained improvement of teaching is a reality.
So come and share your stories, and hear how different Australian institutions are tackling the challenge.
Why come to ALASI?
Building on the success of the inaugural ALASI 2013 . . .
ALASI is the place to connect with the nation's leading practitioners and researchers in learning analytics
ALASI is a social place to make new collegial connections
ALASI is a friendly place to share both the success stories, and the struggles.
ALASI will be highly interactive:  Workshops, Tutorials, Panels, with an evening buffet reception accompanying Posters, Demos and Exhibitors. This is about dialogue and debate, not long presentations!
ALASI will focus on the 'middle space' between learning and analytics: it aims to mix the practical, pedagogical, technical and ethical.
ALASI will be hosted in the recently launched UTS learning spaces designed to mix lectures with group work to support 21st century pedagogies, so get creative when thinking about how you might participate!
Keynote Speakers
Gregor Kennedy

We are delighted to have keynoting Gregor Kennedy, Pro Vice-Chancellor (Educational Innovation) at the University of Melbourne and a Professor of Higher Education in the Centre for the Study of Higher Education. His current work involves leading the University's strategy in technology-enhanced learning and teaching, supporting staff in the use of learning technologies, and undertaking research in the area of learning technologies. He has a background in psychology and has spent his career conducting and overseeing research and development in educational technology in higher education. His research interests include staff and students' use of technology, 3D immersive educational environments, computer-based interactivity and engagement, and learning analytics in educational research and evaluation. He has published widely in these areas and is the co-editor the Australasian Journal of Educational Technology.
Anne Young

Our second keynote brings to the learning analytics dialogue renowned expertise on the use of strategic institutional data. As Director of Strategy, Planning and Performance at the University of Newcastle, Associate Professor Anne Young leads a team that is responsible for coordinating strategic planning, business intelligence, reporting and analytics, quality assurance, institutional surveys and research and student load planning. Anne has a PhD in statistics, is on the Tertiary Education Quality and Standards Agency Expert Register and is a graduate of the Australian Institute of Company Directors. Prior to her current role, she worked in health planning and as a teaching and research academic in statistics and epidemiology, with a focus on longitudinal studies and record linkage. Anne has a strong interest in using both quantitative and qualitative data to support evidence-based decision making and continuous improvement, particularly in relation to improving student retention and success. She established the Australian Network of University Planners with her peers in 2012 to facilitate discussion of topical issues and to highlight the expertise within the group to support and contribute to policy discussions, educational research and evaluation of strategies.
Contact
Program: Simon Buckingham Shum
Organisation and Logistics: Gabrielle Gardiner
Submission of Abstracts: Gabrielle Gardiner
ALASI2014 Program Committee
Simon Buckingham Shum, University of Technology Sydney (Chair)
Shane Dawson, University of South Australia
Gabrielle Gardiner, University of Technology Sydney
Grace Lynch, University of New England
Negin Mirriahi, UNSW Australia
Abelardo Pardo, The University of Sydney
Simon Welsh, Charles Sturt University
Organised in association with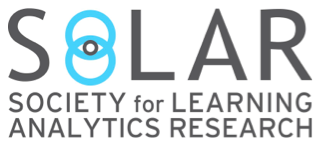 with support from