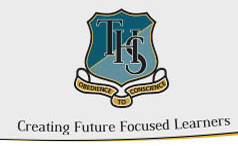 CIC's primary audiences for our Learning Analytics work are our UTS academic and other staff colleagues, and our students. However, CIC was also created to advance the work of researchers in other faculties through the use of analytics. Our colleagues in the School of Education are partnering with Turramurra High School (THS), which has been recognised by the NSW Department of Education as a leading school in the state.
We are adding additional dimensions to this:
through the work of Ruth Crick, THS is piloting the CLARA dispositional learning analytics tool
the UTS learning.futures strategy to develop collaborative learning spaces of many sorts has led to CIC  hosting several meetings of the NSW Secondary Principal's Council reference group on Learning, Leadership of Learning and Student Engagement

.

through Simon Buckingham Shum's work on Learning Analytics, the same group is also learning how they can deploy analytics for future-oriented pedagogies
Learn more about how THS is equipping itself for the future in partnership with UTS, on the Principal Stephanie McConnell's blog. . .
Key extracts on our work with them:
July 2015: "Earlier this year, we began working very closely with Professor Simon Buckingham-Shum and Professor Ruth Deakin-Crick from UTS on developing an exciting new approach to teaching and learning at Turramurra High School. Professors Buckingham-Shum and Deakin-Crick have been working for a number of years on developing a "Learning powers framework" which empowers students to have agency in their own learning. It is important that students are fully engaged in their learning journey and that they don't see it simply as something that is "dome TO them". This approach is aligned with our school plan in terms of developing student engagement and in delivering future-focused learning."
Dec. 2015: "At the heart of our vision is innovation and encouraging risk-taking in our learning. In 2015, with UTS we have piloted a very successful student-directed learning project with all Year 10 CAPA students. The project included a research focus on enabling students to understand their learning power based on seven key dimensions. The following is a reflection on the learning experience written by one of our Year 10 students: 
"Through the Passport Project I have learnt the value of our own learning and how it can shape our approach to thinking and our experiences within a school setting. My experience in this project has also taught me that our approach to learning is determined individually and we decide how much we get out of a task by how much we invest in it ourselves. I feel, through this task, I have shed light upon my views towards the concept of creativity and how, to truly enable creative thought processes, we must approach tasks with an open mind willingness to let go and allow our minds to be flexible whilst being able to be shaped by our experience. To become the masters of our own learning, we have to be self-aware and be able to analyse and critique our own work without bias or predetermined thought."
What incredible insight from a 15 year old! And an insight…if you read between the lines…which understands the value of embracing imperfection!"
Dec. 2015: "Further to the theme of collaboration, recently, the NSW Minister for Education, Adrian Piccoli, announced that Turramurra High School was one of eleven schools across NSW selected to lead a $425,000 project to transform the future of teaching by reimagining the whole preservice teacher training at university level. We are partnered with UTS for this project and we are proposing a very radical model of completely immersing pre service teachers in this cool environment in order to learn their profession. There will be much trial and error with over the next two years, but at the heart of it, is a focus on improving the teaching and learning experience for our students and the students of the future."