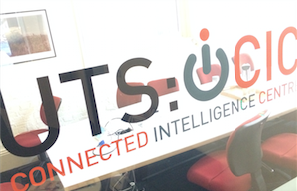 The year has been very busy on both the teaching and research fronts, below you will find all the headlines!
For more information read our latest UTS CIC Quarterly Newsletter
Students studying the Master of Data Science & Innovation (MDSI) have once again emerged victorious in the second NSW government's Data Analytics Centre invitational hackathon (having won the inaugural one).
We have launched our Learning Analytics PhD program with three $35K Scholarships, and are appointing students to start in August. It's not too late to get in touch, but hurry — we hope to make quick decisions!
Team news: we have welcomed two new research fellows to work specifically on reflective writing: Andrew Gibson and Adam Aitken. We welcome back Gabrielle Gardiner as Senior Manager, and are growing CIC's administrative and outreach capacity with the arrival of a new Administration Assistant (Bridget Payne), Marketing/Comms Officer (Michelle Gubanyi) and Georgia Markakis becomes Course Manager.
We have launched a new Collaboration Analytics strand which focuses on making visible how people work in teams, both face-to-face and digitally mediated. This should benefit both teaching/learning and research, as we set up new collaborations — get in touch…
CIC's writing analytics tool AWA has been completed re-implemented and new parsers are being developed in collaboration with faculties including Pharmacy, Accounting, Management, Data Science, Engineering and Ecology, as well as being available to all PhD students.
CLARA (Crick Learning for Resilient Agency) has just been introduced to new Nursing students with a very positive reception, with about 50 Business Masters students due to engage with it shortly, and >1000 Science students over the course of the year. It has now been translated into Norwegian and Chinese, with a Spanish version in the pipeline.
Diverse aspects of our work will be on the international stage at Learning Analytics & Knowledge (LAK16), the primary, archival conference in the field. See also our peer review publications.
Finally, browse the UTS projects to see how we are supporting different parts of UTS to pilot new innovations funded by the Vice-Chancellor's Learning & Teaching Awards.
Stay tuned to CIC news by following us on twitter and subscribe to our newsletter.