December 2017
Dear reader,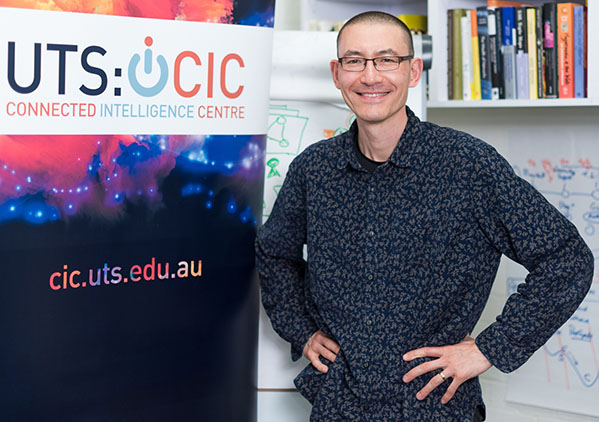 Dear Colleagues, 
Welcome to our final newsletter for 2017! 
• Catch up with how we work closely with academics from across the faculties, developing and evaluating some extremely exciting analytics capability for UTS learning and teaching. 
• Replay events from some of the thought leaders who have visited CIC; and read all about our inaugural UTS Humans, Data, AI & Ethics Conversation, held on Wednesday December 6th. This event was the culmination of a year building a network of colleagues across the university, and was followed by a highly engaging public debate.
• Read also how our team has been in demand nationally for their thought leadership on these topics, and is disseminating innovative work in the primary fora for educational data science and human-centred computing.
CIC launched in August 2014, and in three quick years, has established UTS as an internationally recognised exemplar of a strategic approach to building a university's capacity to use data analytics in its teaching and learning. This graphic is a snapshot of our impact to date: 

This year we reviewed and refreshed our vision, mission and strategy. Our vision is of a university where data, ideas and people are connected — enhancing learning and teaching, research, external engagement and professional operations. We do this by connecting students, educators, researchers and external community through the expertise we bring to assist their work. 
Enjoy these stories, and more on our CIC website, and as ever, don't hesitate to get in touch to learn more or float ideas about how we might work together. Simon Buckingham Shum
Regards,
Simon Buckingham Shum
CIC Director & Professor of Learning Informatics
CIC Researchers Simon Buckingham-Shum, Andrew Gibson and Adam Aitken, along with Cherie Lucas from UTS Pharmacy have been awarded a Teaching Innovation Prize in Italy for their poster summarising their development of the Academic Writing Analytics (AWA) tool for student self-reflection...
CIC leading ATN Text Analytics Project   UTS and its sister universities of technology in the other states form the Australian Technology Network of Universities (ATN), to advance our common missions through collaboration. We are delighted to say that the ATN's Learning and Teaching Grants Scheme, which promotes joint innovation across the ATN, has just awarded CIC $100,000 to lead a …
CIC researchers are collaborating with the UTS:Law faculty on a project to teach undergraduate law students how to write better academic essays. Students learn the use of rhetorical structures and discourse markers, which guide the reader through the flow of a text using linguistic cues. They also learn self-assessment and revision skills to apply on their essay writing…
The challenge of supporting student learning in capstones is common to courses across UTS. While students work independently or in teams on their specifically configured projects, the value of ongoing engagement with their teachers and peers is sometimes hard to demonstrate.  We have made inroads in supporting students in these contexts by building a tool for students to actively reflect …
This collaborative project with the UTS School of Mathematical and Physical Sciences will develop an application to support authentic data analytics assessment as a flipped-learning activity. We will develop an application that enables us to share an individual copy of a dataset to all students via google sheets...
This collaborative project with UTS Science is investigating student outcomes of a flipped learning 'benchmarking' activity in which students are asked to grade and give feedback on sections of assignments, before they write their own version of the assignment.  Prior investigation highlights the enormous benefits of this kind of task, but rarely are outcomes quantitatively evaluated to inform future practice…
As society's problems get only more complex (not just more complicated), there is growing interest in how we can blend "the cloud with the crowd" — the best of machine intelligence and human intelligence. Specifically, complex, wicked problems are never resolvable by individuals analysing a problem and announcing the solution. Multiple perspectives are needed, and engaging stakeholders in helping to define the …
It was a pleasure to spend Tuesday afternoon in Melbourne at the Assessment Research Centre (Director, Sandra Milligan) and Centre for the Study of Higher Education (Director, Gregor Kennedy). There is such a breadth and depth of work in these centres, and I met an extraordinary range of researchers. They invited me to address the concerns that many educators have around "Learning Analytics"…
A team of UTS Master of Data Science and Innovation students have won first prize at the 2017 Unearthed Sydney hackathon, replicating the success of their MDSI colleagues in 2016. The 54 hour long event challenged participants to develop prototype solutions to data challenges in the mining and resource sector...
CIC academics and MDSI students featured prominently at the UTS Innovation, Entrepreneurship and Creative Intelligence Unit's creative clusters on "You + A.I" throughout the month of October. The four-part creative cluster series kicked off on October 10 and ran weekly until October 31, 2017. In the first cluster, guests were introduced to A.I., its meaning and its uses.  CIC representatives …
Collaborators from the UTS Connected Intelligence Centre, School of Education and School of Communication have submitted a fascinating research grant proposal to investigate the use of an educational tool to improve the media literacy of teenagers. The Trump-inspired debate about 'fake news' has raised concerns about the media literacy of early high school age children…
On October 16-17, CIC academic Simon Knight attended Deakin University's "Centre for Research in Assessment and Digital Learning" (CRADLE) International Symposium entitled Re-imagining assessment in a digital world. The Open Forum event featured a panel of domestic and international experts working in the fields of learning science and analytics. Participants reflected on how technology is transforming teaching and learning in higher education. …
On the 5th of October, Associate Professor Theresa Dirndorfer Anderson presented at E-Research South Australia's (eRSA) Innovation Symposium in Adelaide, discussing the topic of: "AI Beyond the Myths"…
TAP (the Text Analytics Pipeline) is now available as open source under the Apache 2.0 license from the UTS-CIC GitHub page.   This software runs as a web application in the cloud and provides a convenient GraphQl API access to a variety of Text Analytics processes.
Things are ramping up to the 8th International Learning Analytics & Knowledge Conference (LAK18), which comes to Sydney next March, the first time it has been hosted in the southern hemisphere. LAK is the primary research conference in the field, and the official conference of the Society for Learning Analytics Research (SoLAR).   CIC's Director Simon Buckingham Shum helped to …
Data science, machine learning and artificial intelligence technologies are transforming our workplaces, our social institutions and our everyday lives. Whilst the creative, commercial and organisational potential of these technologies is exciting, are we overlooking the human and ethical dimensions of data and its uses? On Wednesday December 6th, a stellar line up of leading UTS academics, along with industry and government speakers, assembled at UTS…
On Wednesday December 6th, two teams of UTS academics and industry partners gathered at UTS for the hotly anticipated "Humans, Data, AI & Ethics – Great Debate".  The rhetorical battle raised the provocative proposition that: "Humans have blown it: it's time to turn the planet over to the machines"…
The implications of AI and automation for change in the future workplace is the subject of much current debate and the implications for all education sectors are significant. But how should Higher Education respond? Professor Rose Luckin from the UCL Knowledge Lab, University of London joined us at CIC to discuss the future of AI and learning...
CIC was delighted to welcome Paul Culmsee back to deliver a Dialogue Mapping masterclass to UTS staff, students and guests.  Paul is a Management Consultant, Technologist, Facilitator and Sense-maker with 25 years experience...

The CIC team was delighted to welcome two new staff into the fold recently. PhD student Sophie Abel is now completing her doctoral research at CIC under the supervision of Dr Kirsty Kitto. The professional team has been joined by Administration Assistant Ratha Ang, who has already settled into the role brilliantly. Welcome Sophie and Ratha!